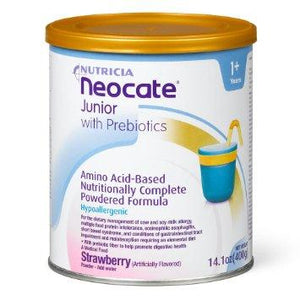 Nutricia
Neocate Jr Strawberry 14.1oz can- Case of 4
Regular price
$ 119.99
$ 0.00
Unit price
per
---
Share this Product
4 x 14.1oz cans (packaging may vary)
Neocate Junior is a hypoallergenic, nutritionally-complete, powdered, amino acid-based medical food with prebiotic fiber for individuals over the age of 1 for the dietary management of cow milk allergy, multiple food protein intolerance (MFPI) and food-allergy-associated conditions: gastroesophageal reflux disease (GERD), eosinophilic esophagitis (EoE), short bowel syndrome (SBS), and other GI disorders.Neocate Junior contains extra vitamins and minerals especially helpful for children with GI-related malabsorptive conditions.
Amino acid-based formulas, also known as elemental formulas, are made from individual amino acids instead of whole protein. Amino acids are the most basic form of protein, and are easy for the body to absorb. All Neocate powdered products are made in a dedicated, 100% dairy-free facility. Neocate ingredients are certified by suppliers to be derived from non-genetically modified organisms.
Features:
The can contains14.1oz strawberry powder formula.
Hypoallergenic, amino acid-based formula in a powdered form.
Contains prebiotic fiber to help promote digestive health.
Easy and convenient mixing. Can be used for oral or tube feeding.
Made in a dairy-free facility with ingredients that are certified by suppliers to be derived from non-genetically modified organisms
Available in a variety of flavors to help fight flavor fatigue.
Nutritionally complete.
Directions:
Suggested intake to be determined by a healthcare professional and is dependent on the age, body weight and medical condition of the patient. It is important for your infant's health that you carefully follow these instructions.
Your healthcare professional may choose to recommend fresh preparation for immuno-compromised infants. Do not boil formula or use a microwave to prepare or warm formula.
Wash hands thoroughly and cleans the preparation area.
Pour the required amount of cool, boiled water into a sterilized feeding bottle*.
Add the prescribed number of scoops of formula to the water.
Place the cap on the bottle and shake until powder dissolves.
Important preparation information:
Freshly prepared formula is best. Formula prepared in advance must be cooled rapidly, stored in the refrigerator and used within 24 hours of preparation. Formula remaining in the bottle after one hour of feeding should be discarded.
Storage:
Store unopened can at room temperature. Do not store at extreme temperatures.
Once opened, reseal can and store in a cool, dry place (not a refrigerator).
Use within 1 month.