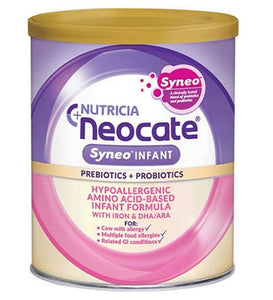 Nutricia
Neocate Syneo Infant Powder 14.1 oz Single can
Regular price
$ 54.99
$ 0.00
Unit price
per
---
Share this Product
1 single can 14.oz 

Neocate Syneo Infant is an amino acid based formula that is specially formulated for the dietary management of infants with cow milk allergy, multiple food allergies and related GI and allergic conditions including FPIES, EoE, and GER. Neocate Syneo Infant contains Syneo, a patented clinically tested symbiotic (prebiotic + probiotics) blend of sc-FOS, lc-FOS and Bifidobacterium breve M-16V.
Ingredients: Corn syrup solids, refined vegetable oil, Vitamins, Minerals.
Thankful
Our granddaughter was changed to this formula abruptly and he could not find it anywhere. We and our son ordered from your site and received it promptly.
Baby hated
I got it because it's dairy free & there's not a lot of options on the market. My baby (7 weeks) wouldn't even drink it. Made a "gross" face and rejected the bottle. It may work for some but I wish I could get my money back.
Neocate Syneo Infant Powder 14.1 oz Single can
Super Quick Shipping!
I was stressed because my formula had run out and the shipping was super fast! Will be ordering again.
Perfect
I will buy again.. packaging was very good