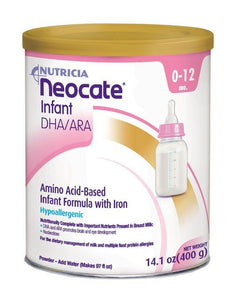 Nutricia
Nutricia Neocate Infant DHA/ARA 14.1oz Can
Regular price
$ 44.99
$ 0.00
Unit price
per
---
Share this Product
Neocate Infant DHA/ARA is a hypoallergenic, nutritionally-complete, amino acid-based exempt infant formula containing iron and nucleotides. Amino acid-based formulas, also known as elemental formulas, are made from individual amino acids instead of whole protein. Amino acids are the most basic form of protein, and are easy for the body to absorb. Neocate Infant DHA/ARA is the only elemental formula that contains nucleotides, which are naturally found in breast milk. Neocate Infant DHA/ARA is also the only hypoallergenic infant formula that does not contain soy oil. All Neocate powdered products are made in a dedicated, 100% dairy-free facility. Neocate ingredients are certified by suppliers to be derived from non-genetically modified organisms.
Features:
The can contains14.1oz unflavored powder formula.
Hypoallergenic
For ages 0-12 months
Osmolarity (standard dilution): 340 mOsm/kg
14.1 oz Can makes 97 Fluid Ounces

Nutritionally complete with important nutrients present in breast milk

DHA & ARA promotes brain and eye development
Nucleotides
Directions:
Suggested intake to be determined by a healthcare professional and is dependent on the age, body weight and medical condition of the patient. It is important for your infant's health that you carefully follow these instructions.
Your healthcare professional may choose to recommend fresh preparation for immuno-compromised infants.
To make a standard dilution (20 Cal/fl oz), add 1 unpacked level scoop (4.6 g) of powder to each fluid ounce of water. Only use the scoop provided. Use a gram scale for the most accurate results. Do not boil formula or use a microwave to prepare or warm formula.
Wash hands thoroughly and clean the preparation area
Pour the required amount of cool, boiledwater into a sterilized feeding bottle*
Add the prescribednumber of scoops of formula to thewater
Place the cap on the bottle and shake until powder dissolves
*Boilingis the preferred method for sterilizing water, bottles, nipples and mixing utensils.
Amount of water: 3 fl oz + amount of powder: 3 scoops or13.8 g for final volume of3.3 fl oz
Amount of water: 5 fl oz + amount of powder:5 scoops or23 g for final volume of5.5 fl oz
Amount of water:8 fl oz + amount of powder:8 scoops or37 g for final volume of9 fl oz
Important preparation information:
Freshly prepared formula is best. Formula prepared in advance must be cooled rapidly, stored in the refrigerator and used within 24 hours of preparation. Formula remaining in the bottle after one hour of feeding should be discarded.
Storage:
Store unopened can at room temperature.Do not store atextreme temperatures.
Once opened, reseal can and store in a cool, dry place (not a refrigerator).
Use within 1 month.
My baby love it!
Its the best formula for baby with digest problems! And this company sale more cheaper than any other and the delivery its super fast! Thank you so much!
Nutricia Neocate Infant DHA/ARA 14.1oz Can
Awesome deal!!
Great price!! Only comment I have is that a couple of the cans were within 6 months of expiring, but the rest were about 12 months out so I just made sure to mark the older ones and use them first..
Elizabeth
She is doing much better with the new fornula
10 stars
Very reliable ! Get within 3-4 days, sometimes sooner- great packaging!