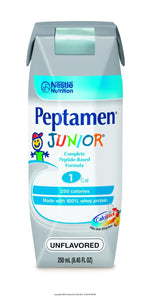 Peptamen
Peptamen Junior Unflavored 8.45 fl oz Can - Case 24
Regular price
$ 99.99
$ 0.00
Unit price
per
---
Share this Product
Nestle Peptamen Junior 1.0 Calis a nutritionally complete, easy to digest and easy to absorb formula to help support the nutritional needs of children with impaired GI function. It is a complete peptide-based formula that is designed for children ages 1 to 13.
Features:
Pack of 24
8.45 fl. oz. (250 mL) ready-to-use containers
Unflavored
Peptamen Junior contains CalciLock blend of essential nutrients to support healthy bone development.
The enzymatically hydrolyzed 100% whey protein facilitates gastric emptying.
60% of fat is from MCT to decrease the potential for fat malabsorption.
Peptamen Junior 1.0 meets the 2011 IOM recommendation for calcium and vitamin D. Suitable for these diets: lactose intolerance, gluten-free, and low-residue.
May be used for tube feeding, not for IV use, use under medical supervision
Note: Formula contains milk protein. Not appropriate for individuals with cow's milk protein allergy.
Available in 3 flavors. Strawberry, Vanilla, and Unflavored
NOT FOR PARENTERAL USE
USE UNDER MEDICAL SUPERVISION.
INGREDIENTS:
Maltodextrin , Enzymatically Hydrolyzed Whey Protein- from Cow's Milk , Sugar- Sucrose , Medium-Chain Triglycerides , Fractionated Coconut Oil , Palm Kernel Oil , Cornstarch- Less than 2% , Soybean Oil- Less than 2% , Canola Oil- Less than 2% , Natural & Artificial Flavors- Less than 2% , Calcium Phosphate- Less than 2% , Soy Lecithin- Less than 2% , Guar Gum- Less than 2% , Potassium Chloride- Less than 2% , Sodium Phosphate- Less than 2% , Potassium Citrate- Less than 2% , Magnesium Chloride- Less than 2% , Salt- Sodium Chloride - Less than 2% , Citric Acid- Less than 2% , Choline Chloride- Less than 2% , Vitamin C- Sodium Ascorbate - Less than 2% , Potassium Phosphate- Less than 2% , Acesulfame Potassium- Non-Nutritive Sweetener - Less than 2% , Beta Carotene- Less than 2% , Calcium Citrate- Less than 2% , Taurine- Less than 2% , Magnesium Oxide- Less than 2% , Inositol- Less than 2%- Less than 2% , Vitamin E- Dl-Alpha Tocopheryl Acetate - Less than 2% , L Carnitine- Less than 2% , Sucralose- Less than 2% , Iron- Ferrous Sulfate - Less than 2% , Zinc Sulfate- Less than 2% , Biotin- Less than 2%- Less than 2% , Niacinamide- Less than 2% , Calcium Pantothenate- Less than 2% , Vitamin A- Retinyl Acetate - Less than 2% , Vitamin D- Cholecalciferol - Less than 2% , Manganese Sulfate- Less than 2% , Vitamin B1- Thiamine Mononitrate - Less than 2% , Copper Sulfate- Less than 2% , Vitamin B6- Pyridoxine Hydrochloride - Less than 2% , Potassium Iodide- Less than 2% , Vitamin B2- Riboflavin - Less than 2% , Folic Acid- Less than 2% , Vitamin B12- Cyanocobalamin - Less than 2% , Chromium Chloride- Less than 2% , Vitamin K- Phylloquinone - Less than 2% , Sodium Selenate- Less than 2%
CONTAINS: MILK AND SOY INGREDIENTS