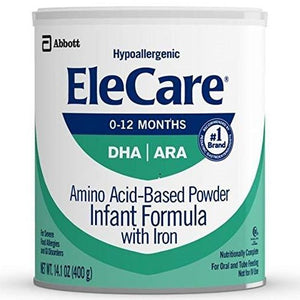 Elecare
Elecare Infant Unflavored 14.1oz Can
Regular price
$ 38.99
$ 0.00
Unit price
per
---
Share this Product
For severe food allergies and GI disorders
Nutritionally completed
DHA/ARA
Amino acid-based
The EleCare Canned Powder Infant Formula With Iron provides essential nutrition for babies with severe food allergies and gastrointestinal disorders, helping them get the nutrients they need. Just add water to the formula for quick and easy preparation - it is that simple. This hypoallergenic infant formula's 14.1 ounce cans can be used for either oral or tube feeding. It can be used as an outstanding main source of nutrition for infants who otherwise can't tolerate protein in traditional foods. This EleCare infant formula is amino-acid based and comes with iron to make sure your little one grows to be strong and healthy without missing any necessary proteins.

EleCare Canned Powder Infant Formula with Iron:
For babies with severe food allergies and GI disorders
Nutritionally completed
DHA/ARA
Amino-acid based
Reconstituted liquid volume: makes approximately 570 fluid ounces
Just add water to prepare
14.1 ounce canned hypoallergenic infant formula
Ingredients:
Ingredients: Corn Syrup Solids (55%), High Oleic Safflower Oil (9%), Medium Chain Triglycerides (8%), Soy Oil (7%), L-Glutamine (2%); Less Than 2% of: C. Cohinii Oil, M. Alpina Oil, L-Asparagine, L-Leucine, L-Lysine Acetate, Datem, Calcium Pohspahte, L-Valine, Potassium Phosphate, L-Isoleucine, L-Arginine, L-Phenylalanine, L-Tyrosine, L-Threonine, Potassium Citrate, Sodium Citrate, L-Proline, L-Serine, L-Alanine, Glycine, L-Histidine, L-Methionine, Ascorbic Acid, Magnesium Chloride, Calcium Carbonate, L-Cysteine Dihydrochloride, L-Tryptophan, Salt, Choline Chloride, M-Inositol, Ferrous Sulfate, Taurine, Ascorbyl Palmitate, Zinc Sulfate, Dl-Alpha-Tocopheryl Acetate, L-Carnitine, Niacinamide, Calcium Pantothenate, Thiamine Chloride Hydrochloride, Cupric Sulfate, Manganese Sulfate, Vitamin A Palmitate, Riboflavin, Pyridoxine Hydrochloride, Folic Acid, Beta-Carotene, Biotin, Phylloquinone, Chromium Chloride, Potassium Iodide, Sodium Selenate, Sodium Molybdate, Vitamin D3 And Cyanocobalamin. C. Cohinii Oil Is A Source of DHA. M. Alpina Oil Is A Source of Ara.
Would like a refund
My elecare is on recall anyways i can get a refund?
Dairy Allergy win
Our infant has a severe dairy allergy. This spills over to a soy protein allergy, which pretty much eliminates all standard infant formulas on the market. It also meant mom had to eliminate all dairy since the baby was still getting it in her breast milk (even baked goods with dairy/soy). After months of experimentation, we found elecare and have stuck with it ever since. Our son is now almost 2, and still drinks it (more out of comfort than as primary nutrition).
One caution, the flavor is fairly awful. Compared to breast milk your baby is definitely going to be able to tell a difference. However, if you just persevere, they will eventually grow to love it.
Good deal
Good company, good price. Would recommend to others and buy again from them.
Elecare Infant Unflavored 14.1oz Can
Rina
I am very happy to find this site they are very responsible with our orders I definitely recommend them