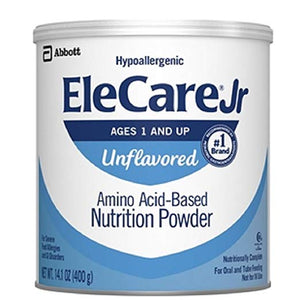 Elecare
Elecare Junior Unflavored 14.1oz Can - Case of 6
Regular price
$ 139.99
$ 0.00
Unit price
per
---
Share this Product
A 30 Cal/fl oz, nutritionally complete amino acid-based medical food for children age 1 and older who cannot tolerate intact or hydrolyzed protein.
EleCare Junior is for the dietary management of protein maldigestion, malabsorption, severe food allergies, short-bowel syndrome, eosinophilic GI disorders, GI-tract impairment, or other conditions in which an amino acid-based diet is required.
For children age 1 year and older.
For oral or tube feeding.
Use under medical supervision.
Features
Clinically documented to be hypoallergenic,1 to virtually eliminate the potential for an allergic reaction to the formula in multiple-food-allergic children.
Shown to be effective in maintaining growth of children with cow's milk protein allergy when used as the primary source of calories.1
100% free amino acids as nitrogen source.
33% of fat blend as medium-chain triglycerides (MCTs), an easily digested and well-absorbed fat source.
Supported by strict manufacturing standards and ELISA (Enzyme-Linked ImmunoSorbent Assay) testing.
Does not contain milk protein, soy protein, fructose, galactose, lactose, or gluten.
Halal.
Precautions
Never use a microwave oven to warm formula. Serious burns can result.
Not for IV use.
Product Code:55253
UPC:070074552538
Elecare Junior Unflavored 14.1oz Can - Case of 6
Baby transitioned from Elecare infant successfully
We first tried Elecare Jr Banana flavored for our baby when we were supposed to transition from Elecare infant to Jr. That did not go well at all as our baby is very picky and even though she likes bananas she did not have more than 1 sip of her formula when she tasted any banana flavored formula in it. Then, we desperately picked up Elecare Jr unflavored from our local grocery stores 1 bottle at a time until our new order arrived from Save on formula. Save on Formula has been a great find for us as they are much more affordable and provide pretty fast and reliable shipping. They always include an invoice with each order so we could use to submit for insurance claim as our baby medically needs this specific formula.
Shipping was somewhat delayed
Elecare Junior Unflavored 14.1oz Can - Case of 6
Elecare Junior Unflavored 14.1oz Can - Case of 6