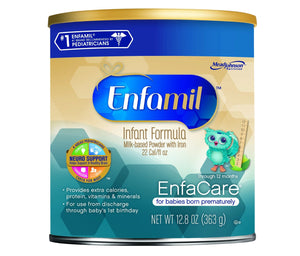 Enfamil
Enfamil EnfaCare 12.8oz Can
Regular price
$ 16.29
$ 0.00
Unit price
per
---
Share this Product
Containercontains 12.8oz dry formula.
Features:
To support the growth and development of babies who were born prematurely.
Scientifically designed to support development and growth for premature babies during their first year of life after leaving the hospital.
Milk-based, 22-Cal/fl oz formula with extra vitamins and minerals* to promote your baby's healthy development
Expert recommended levels of DHA and ARA to support brain and eye development
Blend of nutrients and antioxidants to help your baby's immune system
Clinically proven to help premature babies achieve catch-up growth similar to that of full term, breastfed infants

*
*Compared to EnfamilInfant
*When used in a program of Enfamil formulas: EnfamilPremature, Enfamil EnfaCare, and Enfamil Infant; based on a clinical study before the addition of prebiotics.
Ask your baby's doctor if Enfamil EnfaCare is right for your baby.
Directions:
For Preparation & Use: Your baby's health depends on carefully following the instructions below. Proper hygiene, preparation, dilution, use and storage are important when preparing infant formula. Powdered infant formulas are not sterile and should not be fed to premature infants or infants who might have immune problems unless directed and supervised by your baby's doctor. Ask your baby's doctor which formula is appropriate for your baby. Ask your baby's doctor about the need to use cooled, boiled water for mixing and the need to boil clean utensils, bottles and nipples in water before use.
1. Wash hands thoroughly with soap & water before preparing formula.
2. Pour desired amount of water into the bottle. Add powder.
3. Cap bottle and shake well. Let bottle sit 5 minutes. Shake again.
Warning:
Do not use a microwave oven to warm formula. Serious burns may result. Failure to follow these instructions could result in harm.
Once prepared, infant formula can spoil quickly. Either feed immediately or cover and store in refrigerator at 35-40 degrees F (2-4 degrees C) for no longer than 24 hours.
Do not use prepared formula if it is unrefrigerated for more than a total of 2 hours.
Do not freeze prepared formula.
After feeding begins, use formula within one hour or discard.
Powder Storage: Store cans at room temperature. After opening can, keep tightly covered, store in dry area and use contents within 1 month. Do not freeze powder and avoid excessive heat.
Enfamil EnfaCare 12.8oz Can