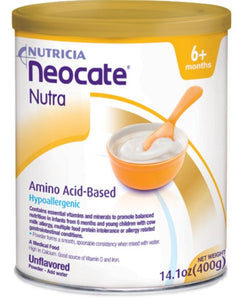 SaveOnFormula
Neocate Nutra, 14.1 oz - Case of 4
Regular price
$ 139.99
$ 0.00
Unit price
per
---
Share this Product
Hypoallergenic, amino acid-based semi-solid food formula in a powdered form.
Easy & convenient mixing - forms a smooth, spoonable consistency.
Ideal for spoon feeding.
To supplement formula or other foods as directed by healthcare professional.
Made in a 100% dairy-free facility with ingredients that are certified by suppliers to be derived from non-genetically modified organisms

Case of 4 cans, packaging may vary 




Neocate Nutra is the first and only hypoallergenic, amino acid-based, semi-solid medical food for infants and children over 6 months of age.Neocate Nutra is formulated with amino acids instead of whole proteins. Amino acids are the most basic form of protein, and are easy for the body to absorb. When mixed with water, Neocate Nutra forms a smooth, consistent texture ideal for spoon feeding. It is meant for oral use only and is not intended for bottle or tube feeding.All Neocate powdered products are made in a dedicated, 100% dairy-free facility. Neocate ingredients are certified by suppliers to be derived from non-genetically modified organisms. See label for nutrition information.Neocate Nutra should not be used as a sole source of nutrition, but as a supplement to formula or other foods as directed by a healthcare professional.

INGREDIEINTS

Corn Syrup Solids (42%), Rice Starch (19%), Refined Vegetable Oil (18%) (Non-Hydrogenated Coconut (6%), High Oleic Sunflower (6%), Canola (3%), Sunflower (3%)), Sugar (9%), Calcium Phosphate Tribasic (2%), Contains 2% Or Less Than Each Of The Following: L-Arginine L-Aspartate, L-Leucine, L-Lysine Acetate, CAEM (An Emulsifier), L-Glutamine, L-Proline, L-Valine, Glycine, L-Isoleucine, L-Threonine, L-Phenylalanine, L-Tyrosine, L-Serine, L-Histidine, L-Alanine, L-Cystine, L-Tryptophan, L-Methionine, Choline Bitartrate, Magnesium L-Aspartate, Magnesium Acetate, M-Inositol, L-Ascorbic Acid, Ferrous Sulfate, Taurine, Zinc Sulfate, L-Carnitine, DL-Alpha Tocopheryl Acetate, Calcium D-Pantothenate, Niacinamide, Manganese Sulfate, Cupric Sulfate, Thiamine Chloride Hydrochloride, Pyridoxine Hydrochloride, Riboflavin, Vitamin A Acetate, Potassium Iodide, Chromium Chloride, Folic Acid, Sodium Selenite, Sodium Molybdate, Phylloquinone, D-Biotin, Vitamin D3, Cyanocobalamin.